How an Entrepreneur Opened His Restaurant with 'Wow Factor' Packaging
Shawmut helps create unique packaging for unique food.
""Every business wants perfect product packaging and Shawmut helped us achieve that. They worked with us until we had a flawless package.""
-Thiago Andrade, Owner of Hot Doogy
Take your packaging up a notch.
Thiago Andrade has cultivated a very specific talent. He can make a Brazilian hot dog like no one else.
It's a skill he started developing in his teenage years, when he and a friend owned and operated two hot dog carts in Belo Horizonte, Brazil. Years later, after moving to Framingham, MA, he revived the idea and started Hot Doogy as a delivery-only business. 
"We tested the demand and viability of a Brazilian hot dog restaurant and had amazing success," Andrade said. With the help of his wife, Fernanda Andrade, who brings cooking and interior design skills to the table, the duo decided to take the next step. "We decided to go all-in and open a brick-and-mortar restaurant in Natick."
One of the many items on the their to-do list was to create packaging for their hot dogs, which are usually garnished with unique toppings like mashed potatoes or catupiry; a type of Brazilian cream cheese. 
The Andrade's teamed up with Gary Chamberlain at Shawmut Communications Group to brainstorm packaging ideas. The result was a custom sleeve tray box printed on 18pt. stock with a modern design using food-safe inks.
Shawmut created three prototypes so the Andrade family could make sure the box was big enough to accommodate the restaurant's 20 different hot dog orders. 
"Shawmut was able to create a truly unique box for our product," Andrade said. "Of course, as a business owner, you want something like this to be perfect and Shawmut worked with me until it was flawless."
The Hot Doogy packaging has a "wow factor," Andrade says, which is exactly how he wants to present their one-of-a-kind hot dogs to customers. 
The Challenge
Finding a printer willing to create flawless, food-safe packaging.
The Solution
Working with Shawmut to create a tray in a sleeve box that's printed with food-safe inks.
The Benefit
Working with a detailed-oriented company that won't stop until the client is 100% satisfied.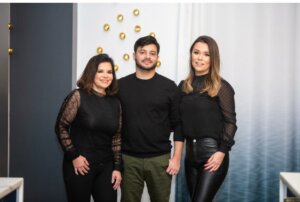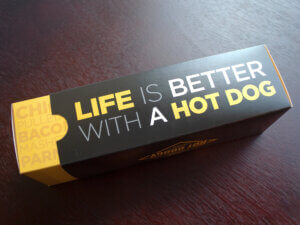 The Results
Boxes printed and delivered
Day turnaround after proof approval
Prototypes created to ensure the correct size